(Last Updated On: August 30, 2022)
In today's stepn guide we will be talking about how to play to earn in step'n, we'll be touching on how to download the app and start playing the game, We've also wrote an article on how get the activation code here. , let's break it down now.
What is STEPN?
STEP'N is a blockchain-based NFT game app focused on healthy lifestyle control, with Game-Fi and Social-Fi elements. The user receives an NFT token in the form of a trainer and can then earn in-game currency by running and walking outdoors. The funds earned can either be used to increase earnings in the app or can be withdrawn and sold.
The game is developed by FindSatoshi Lab, its works on solona blockchain. step'n is now one of the most popular and dynamic NFT games of its class. The GMT control token is priced at $3.35 at the time of writing this post.
bitcoin trading news reports, that the Stepn team received a strategic investment from the venture capital arm of Binance. because of this news, the value of the GMT token rose to $5.0739.
Stepn is the kind of game that allows you to earn money while taking care of your health. The entry threshold into the game is quite high. To start playing, you need to buy an NFT item, which costs between 2.5 and 10 SOL, or between £243 and £972. According to the developers, the investment pays for itself in two to three weeks after you start using the app. In fact, if you lead a fairly active lifestyle, it will happen sooner. Thereafter, you can start earning. This project is really worth paying attention to.
Good and Bad
| Advantages | Disadvantages |
| --- | --- |
| Available on  iOS and AndroidThe Play-to-Earn systemOne of the most popular NFT gamesOpportunity to earn cryptocurrency legally | The registration process is too complexTo start playing, you need to buy an NFT item |
GMT and GST tokens
There are two types of tokens available to players in STEPN.
GMT is a management token that allows users to increase their income.
GST is an in-game token that users receive for in-game activity.
How to Play-to-Earn in Stepn guide
Only one mode is currently working in the STEPN app, the solo mode. Marathon and background modes are in development.
In solo mode, users receive GST tokens as a reward for moving in the real world. This consumes virtual energy — 1 unit per 5 minutes of movement. All of these processes are only triggered after the purchase of NFT trainers. If the energy is at zero, no tokens are earned.
GST tokens, and GMT tokens, will be paid depending on the following factors:
The level and attributes of trainers. The more efficient ones cost more. Notably, at levels 0-29 users can only earn GST, and from level 30 onwards they can switch to earning GMT if they wish.
Trainer comfort parameter. The higher it is, the more tokens are earned every minute.
Running Speed. It is necessary to maintain the recommended speed range for the trainer. If you deviate too much from it, the earnings will be reduced by up to 90%.
As soon as you run out of energy, earnings stop. Then you can manually exit solo mode with the Stop button.
How to start playing?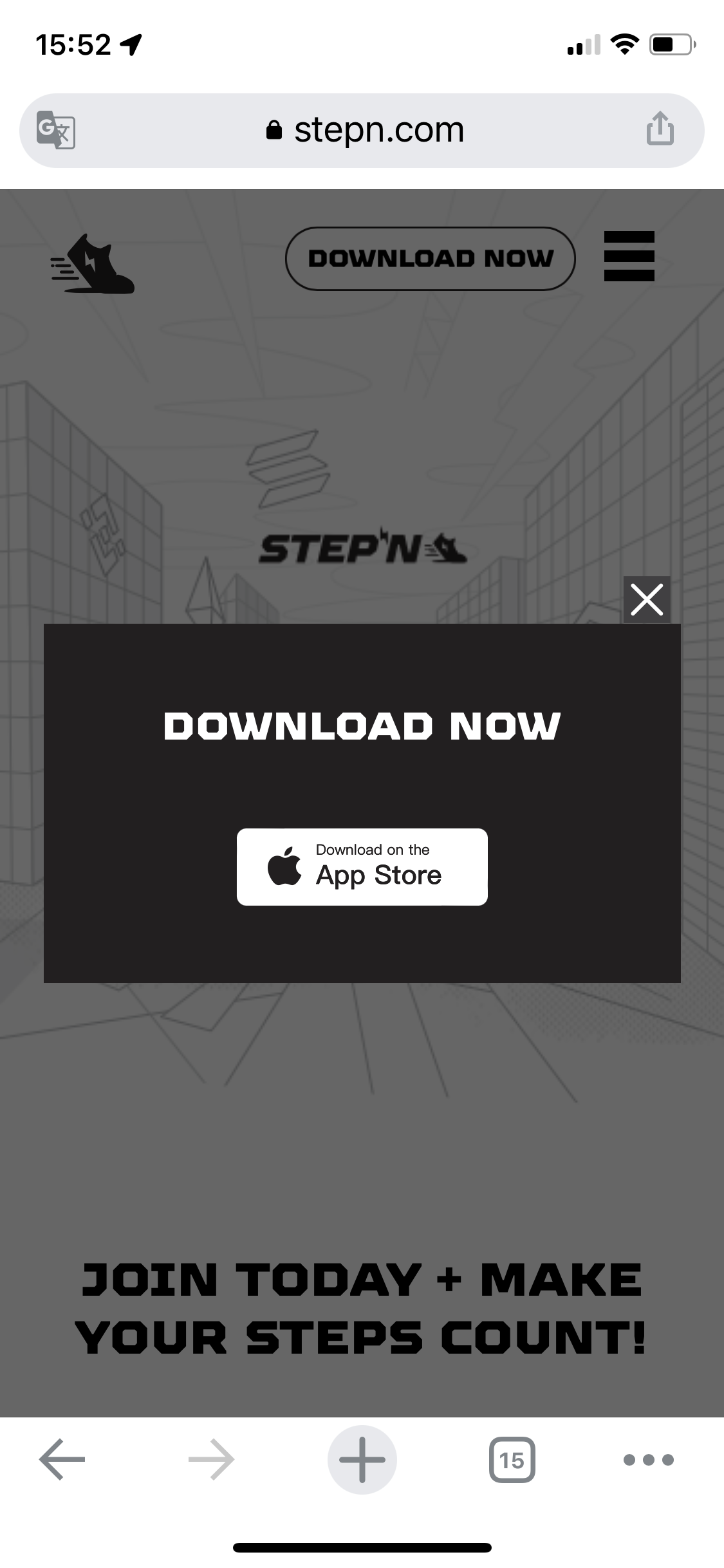 Step 1 — you need to Download the app first
you have to install the app on your smartphone. Depending on the model of your phone, you can do this either from the App Store or from Google Play.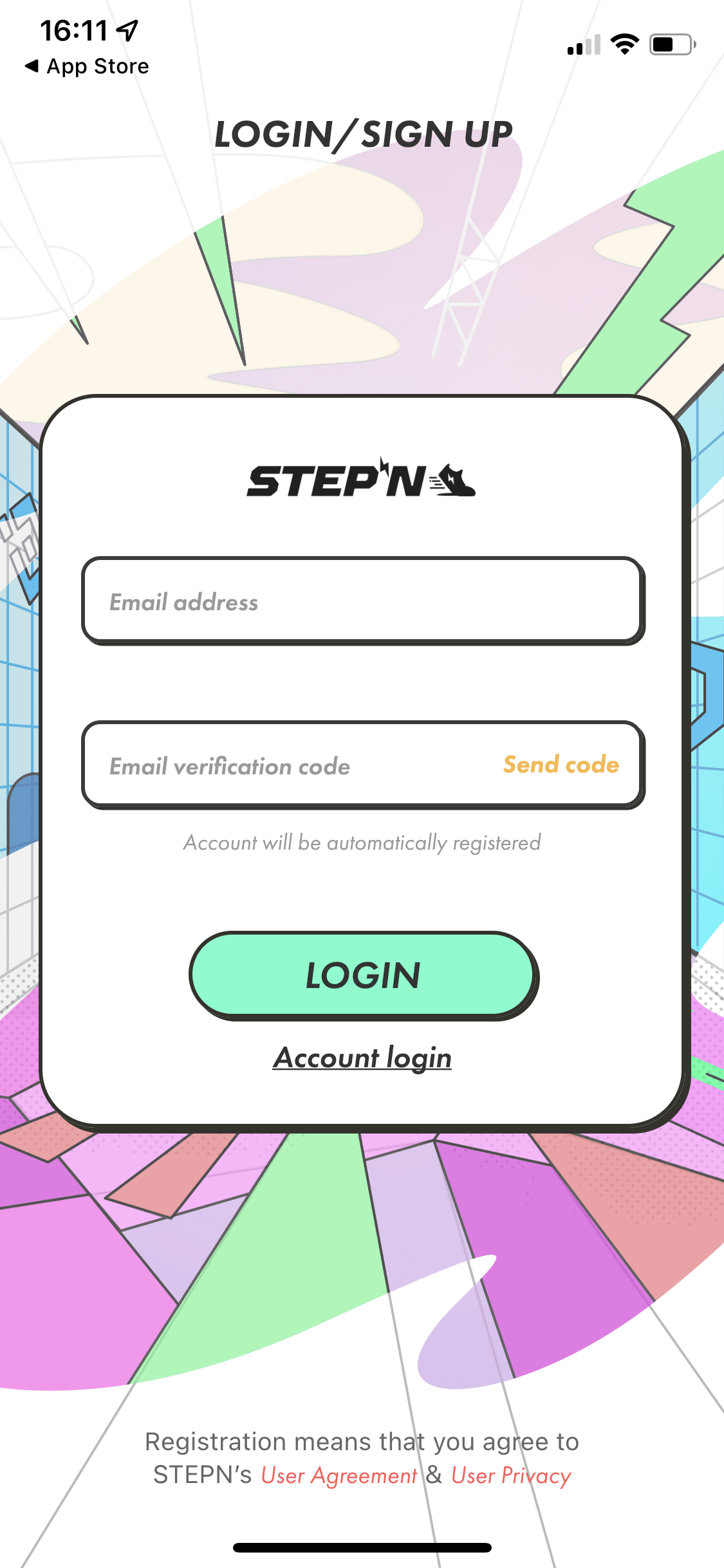 Step 2 — Create an account
After launching the app, you have to enter your email address, to which you will receive a registration confirmation code. Enter your email address and press the "Send Code" button. A code will be sent to your email address, and you need to enter it in the field.
You then need to obtain an application activation code. To obtain the activation code, register in one of the Stepn community on social networks. Click on the "Get activation code" button.
Choose the social network that suits you best, and proceed according to the on-screen prompts. We have a Post here on How to get stepn activation code ( the easy way) Once you have received your activation code, use it to open main application.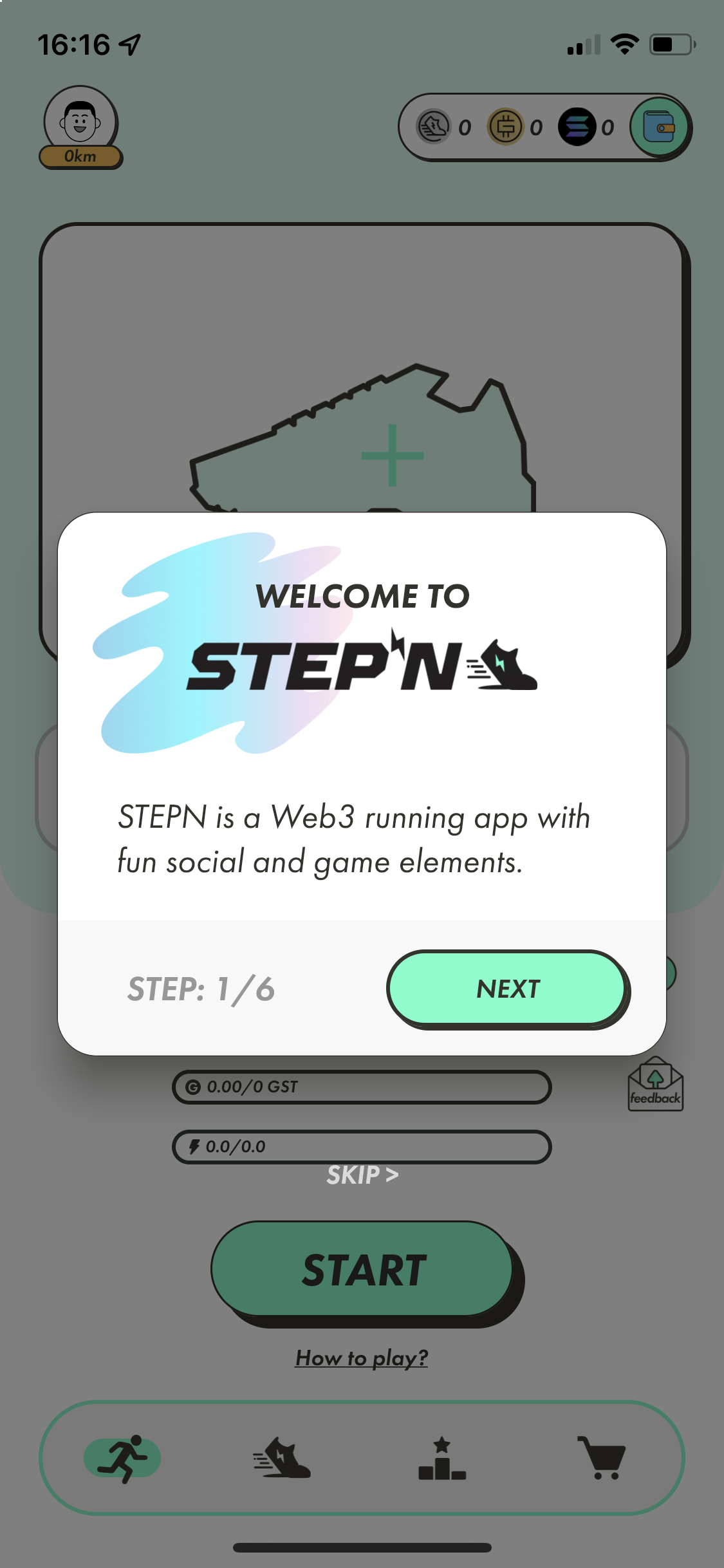 Step 3 — Creating a cryptocurrency wallet
After you have entered your activation code, the app will open and the tutorial will start. Several screens will explain to you how to use the app.
Now you to create a crypto wallet in the app. Click on the wallet image in the top-right corner of the app. This will start the process of creating a crypto wallet, which will literally take small time. While creating the wallet, you will be shown a secret words that you need to write down and keep in a safe place. Once the crypto wallet has been created, you will be taken back to the main application screen.
Step 4 — Start the gaming
As you can see in the top-right corner, the token column shows zeros. To start the game, you need to deposit SOL tokens into your cryptocurrency account, in the amount that will allow you to purchase an NFT token in the form of a sneaker.
You can buy the token in the shop. then use your token to buy sneakers after buying the sneakers, wait until 25% of the energy has accumulated (approximately 6 hours) and then start the game.
conclusion
Play-and-earn games can be highly risky due to price volatility. note that the tokens used by Stepn are cryptocurrency token trading on many crypto Exchanges.
This investment requires a knolage of approach. as gamers' investment in the game could suffer. We do not encourage you to invest all your money in such products, invest what you can afford to lose. All investments you make are at your own risk.